In the following post I am going to share 15 different tools that will help you turn your businesses website or blog into a conversion powerhouse through the use of landing pages, testing, analytics, traffic and feedback.
There is a huge problem that business owners face when they start taking the web seriously.
The first thought most people have is about getting traffic which is never a bad thing, but after investing loads of budget in SEO, content and even paid traffic they come to a shocking revelation:
Your website doesn't convert.
Rather than looking for a solution, the immediate reaction of a lot of small business owners is that digital marketing doesn't work and I can understand why.
Wrong.
What's the answer?
Find the holes in your website and plug the leaks.
What will doing this achieve?
Higher conversions mean more leads, more sales and hopefully that dream villa or Ferrari that you have been wanting.
I have broken down these tools into a process that includes a particular workflow, essentially a 'start to finish' approach that will help you get better results.
The order that you would deploy these tools would roughly be as follows:
Setup lead capture
Get traffic to your site and landing pages
Add analytics and data collection
Setup split testing tools (if your lead capture solution doesn't support this)
Get traffic (you can't do anything without traffic)
Get feedback from your visitors
There are a few things for you to consider here:
Best practice can only get you so far – in some verticals visitors will respond differently to others.
'Always be testing' – in most cases there is always a chance to improve conversions and I'll show you tools that allow you to run split tests, comparing one landing page to another. If you want to expand on this and delve into using multivariate testing, you can learn of a quick way of doing it here.
Ready to dive in?
Capture Leads
For almost every business website, the main goal is to generate leads and convert visitors into buyers or at the very least subscribers who opt-in to some form of mailing list.
One of the best ways to do this is to create targeted landing pages for particular customers. You may target a different segment of customers with each landing page.
If your website is created using WordPress, there are plenty of plugins available that will allow you to create high converting landing pages – but what if your website doesn't run on WordPress, maybe it runs on another CMS (content management system) or maybe it doesn't run on a CMS at all.
What do you do then? Usually it means working with developers and technical teams to build out a powerful landing page, but thanks to the wonders of the internet and technology you can bypass all of that. Here are two tools that will help you work your magic: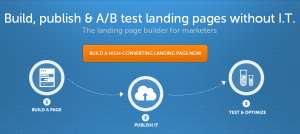 Unbounce allows you to build your own landing pages using a straight forward drag and drop interface, this is a 'WYSIWYG' (what you see is what you get) interface.
You start off from a selection of templates and then customise to your heart's desire – this works great because it means you can base your landing page on tried and tested designs created by the experts.
All of your landing pages are hosted with Unbounce, it just takes some tweaks with your hosting (all of which are fully documented) and then you're good to go.
Once you're getting traffic to your pages you can start to run split tests, where you can test one design against another to get conversion rates as good as possible.
Price: Free 30-day trial, paid accounts start at $49/month for unlimited landing pages.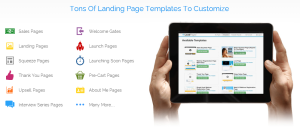 Leadpages also allows you to setup great looking landing pages very quickly and takes care of the hosting of them for you.
There are over 50 templates available, with the option of WordPress integration, should you need it.
You won't need to touch any code, although if coding is what you're good at then you have the option to create your own templates.
Price: Starts at $37/month, with extended features available for $67/month.
Analytics and data collection
Analytics and data collection tools will provide essential insights into how visitors interact with the pages on your site.
Considering this is a free platform, it is a powerhouse of analytical magic you can grab data on:
Real-Time – what's happening right now?
Your audience – Who are they?
Acquisition – where is your traffic coming from?
Behaviour – what are visitors doing on your site?
Conversions – are your visitors completing important goals? E.g. purchasing a product or opting into a mailing list
It's as easy as adding a snippet of code to all of your websites' pages.
Price: Free

I've always felt that there was something missing from Google Analytics. I'm not complaining here since it's a free tool but filling in all of the blanks is important here because these tools have a huge bearing on decisions you make that will affect your business.
KISSmetrics is the answer to exactly what is missing – it shows you each action and as the headline on their landing page says; Google Analytics tells you what happened, KISSmetrics tells you who did it.
Price: 14-day free trial, starting at $150 per month.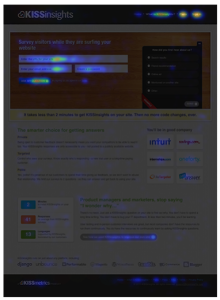 If you haven't heard of a heat map before then I'll explain – it's essentially a map of where your visitors are clicking. It's a great way of highlighting how users behave on your site, and the fact that it does this visually makes it much easier to understand than just looking at a few numbers.
If you want to know if a new website design or landing page design is working, give Crazy Egg a try.
Price: 90-day free trial (at the time of writing, this may change), starting at $9/month.
ClickTale does integrates heatmap analytics, but where it really comes into its own is by recording videos of how individual users behave on the site which you can play back in real time.
Price: Free for up to 5,000 recordings, premium plans available.
Split testing tools
While all of the analytics tools I've mentioned will give you some powerful data that you can use to inform the design changes of your website and/or landing pages – you need some way of knowing which version of these designs work best.
This was originally known as Google's 'Website Optimizer' until it was rolled into Google Analytics to keep everything under one roof.
You can add individual page URL's to the system, add a snippet of code to your site and Google will then split your traffic between the number of URL's that you're testing.
Price: Free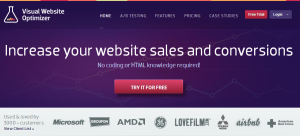 Near the beginning of this post I mentioned something called multivariate testing – this is a great way to test a lot of different changes to a page on your website. Rather than just testing two different versions.
You can split your traffic between different URL's and make sure returning visitors get the same version all the time.
A great feature is the WYSIWYG or HTML editor which makes it easy to create different variations of your website.
Other features include: behavioural targeting, headmaps, usability and revenue tracking.
Price: Free for 1,000 visitors over 30 days, paid plans start at $49/month.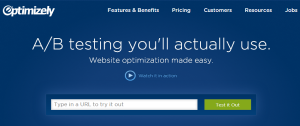 Optimizely has a really straightforward process to setting up split tests, it breaks down like this:
Enter your URL
Add your variations
Create your goals
Target and allocate specific traffic segments
Go!
Then you can sit back and watch the real-time reporting show you how your different variations are doing.
Price: 30-day free trial, paid plans start at $17/month.
Get Traffic
I'm not sure whether you'd really class these as tools, but in any case I have added these for completeness because you can't move on to analytics and data collection unless you have enough traffic.
There's no rule that says that you have to use paid traffic, although using PPC or other paid traffic methods means you can turn traffic off and on like a tap and scale as much as you like.
Either of the following would be a good place to start, but what's important to note is that traffic is a lot cheaper from Bing:
Bing Ads
Google AdWords
Facebook Ads
If you are using PPC then it would be a good idea to setup some software to track your campaign, you could use a self-hosted app such as Prosper 202 or a hosted system such as Tracking 202 or Wordstream.
Get Feedback
One of the biggest mistakes that businesses make is not listening to customer's feedback and taking action on it. Sure, there will be some customer's that will have insane expectations so you'll have to take that into account.
Below are several tools that will help you collect feedback from your visitors. You can use the feedback to inform design changes and test those changes with split testing tools: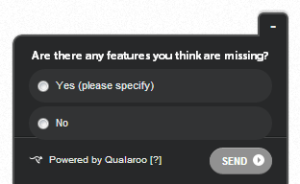 Qualaroo allows you to survey your visitors direct from your website by use of an unobtrusive widget.
In the image above, you can see how Unbounce.com use Qualaroo to get qualitative data about what their visitors think their product is missing.
This will allow them to remove the barriers that stop visitors from signing up and discover the intent of their visitors.
Price: 14-day free trial, plans start at $47/month.
A great way of getting feedback on what you do is by using a survey, you could email it to your mailing list to get some great feedback on what you're doing or make it available through other means.
With Survey Monkey you can pick from a number of templates or create your own survey from scratch, collect the responses through multiple methods (includes web links, the ability to embed the survey on your website and more) and then analyse results through summaries, trends and individual responses.
If you're running short on people to survey you can actually buy responses from the SurveyMonkey audience. Although it's something I've never tried myself and I do wonder whether you can get the right people to fill in your survey. The way I see it, someone who has landed on your site or is on your mailing list is far more qualified to complete your survey than any other source of respondents.
Price: Free with paid plans available to expand functionality.
Summary
Improving the rate at which you convert visitors to your site into buyers can have a huge impact on your revenue.
Countless businesses focus on building up the traffic to their site only to find that their conversion rates are shocking – wouldn't you rather get more from less traffic?
Which tools would you add to the list?
About the author: Adam Connell is the marketing manager of a UK based content marketing agency; UK Linkology. He can be found blogging over at Bloggingwizard.com, where he talks about marketing, social media, SEO and a few other topics. To find out how he made his blog a success in under 4 months, download his free report here.
Image courtesy of cooldesign / FreeDigitalPhotos.net
j+ archives
Featured Categories
Follow @jplussocial on Twitter