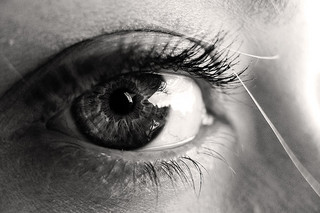 There's a problem that all bloggers face, whether you are blogging for pleasure or you are running a business blog. I've faced this problem and so has every other content marketing expert at some stage in their career.
This problem is simply not having enough eyeballs on your content. After all, we all want more visitors and we want to convert them into targeted leads.
In this post I'm going to show you how to get more eyeballs on your content without an established audience. The results of which will compound and get better over time.
Build on a solid foundation
In order for these tactics to work you need to have a solid foundation to work from and that means a blog or website that is easy to use and has a great user experience.
Ultimately, you need to commit to writing great content.
The next step is to mention market influencers in your content (in a positive way of course) and link to their websites.
It's important that you choose market influencers that have a direct route to your target audience, by doing this you can recruit their help in promoting your content. I'll talk a little bit more about that later on.
The key to success
Your success hinges on you putting the effort into promoting every piece of your content and utilising as many promotional channels as possible each time.
Most people spend hours and hours creating great content, then click publish and maybe promote it a few times on social networks and then wonder why they don't get any traffic.
The truth is that clicking publish it not enough and it never was.
Your mailing list
The first promotional channel that you should take advantage of is your mailing list.
If you're running a business blog then your mailing list may be strictly customers and may not fit the target audience of your blog. So it's possible that it may not be right to use your customer database to promote your blog content to.
After all, they probably didn't opt-in to receive it.
That's why in this situation I recommend creating a separate mailing list where your blog readers can opt-in for updates. If your business blog is running on WordPress then setting this up can be very easy. I have written about a number of mailing list plugins that make this easy, here.
It's also worth incentivising your opt-in form with a free download or offer of some sort – this will make for more of a compelling reason for readers to hand over their email address.
On the other hand, if you haven't started building a mailing list, now is the time to start.
Social networks
There are a number of social networks that you should promote your content on no matter what – if you don't then you are missing out on a great opportunity.
Ultimately you should focus your efforts on pushing out your content to the social networks where your target audience hangs out.
Generally speaking, whatever your target audience, you should be able to find them on social networks like Twitter, Facebook and Google+. On the other hand social networks such as LinkedIn, for example, are more geared towards business.
Whichever social networks you choose to focus on, you need to make sure that when visitors come to your site, it's easy for them to share your content. If it's difficult for them to share, then you will be missing out on a big opportunity.
There are a number of tools that can help you such as Sharethis.com or Addthis.com, alternatively if your blog is using WordPress there are a number of social plugins that I have mentioned here.
Twitter
At the beginning of this post I mentioned that it's important to link out to and mention market influencers in your blog posts.
Twitter is a great platform for recruiting their help in promoting your content.
You could outright ask them to help for example:
Hey @username, mentioned you in a recent post [insert link], would you mind sharing it with your followers please?
Or, you can use the following example which seemed to work well because John Lee dumas retweeted the status update.
Also by mentioning influencers here you will increase the likelihood that you will get retweets.
This does mean that you will have to schedule multiple tweets over a select period of time, I usually share the same blog post on Twitter twice in the same day. Once in the morning and once in the afternoon, mentioning a different influencer in each update.

Google+
In most cases I only share a blog post once on Google+ but mention as many influencers as possible to expand the reach of my status update as much as possible.
Here is an example: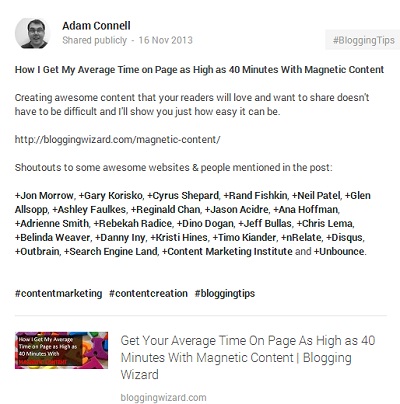 There are a few other things that you should think about when sharing on Google+ that Mike Allton talks about here.
Facebook
On a personal note, I'm not heavily invested in Facebook – I don't like the idea that less than 10% of my fans will see my status updates and the level of advertising is just getting excessive.
That being said, it's still a promotional channel that you should take advantage of.
Niche social networks
Social networks are appearing every day and disappearing just as fast, the truth is that most of them won't get you any results because the user base is too small and isn't targeted enough.
Fortunately a number of 'niche' social networks can help you push your content out to a highly targeted audience in particular verticals.
If you're looking for more niche social networks in your industry sector then you can try the following search terms in Google:
Keyword/topic social network
"Keyword/topic"+"social network"
Syndicate content to authority blogs
The idea behind content syndication is that other sites republish your content on their site – this can be a great way of driving traffic to your site and getting some extra visibility.
Make a list of the top websites in your market sector and ask them if they are interested in getting permission to publish your original content using your RSS feed.
Great content is expensive so most industry sites will jump at the chance.
Here are some examples of websites that syndicate content:
To make this even easier for you there is a tool called RePost that allows you to add a button next to your blog posts where people can immediately see that you allow republishing of your content.
RePost also makes your content available through its website to give greater chance that it will be picked up by other blogs or publishers.
Once you have setup syndication or the RePost button you won't need to do anything on your end whenever your publish content. This will be taken care of by the websites that you have partnered with.
Paid content syndication
While the syndication method I have already talked about will not cost you anything, there are however various websites that allow for paid content syndication.
A few examples of these services include Outbrain and Nrelate – it's a little like running a PPC campaign, but much cheaper. In campaigns that I have run in the past I have managed to get cost per click down to $0.04 on Outbrain.
These types of services add your blog posts to the related content widgets on huge and relevant websites.
We are talking about sites like Gamespot, Fast Company, Rolling Stone, CNN and TIME.
Here is an example from Fastcompany.com: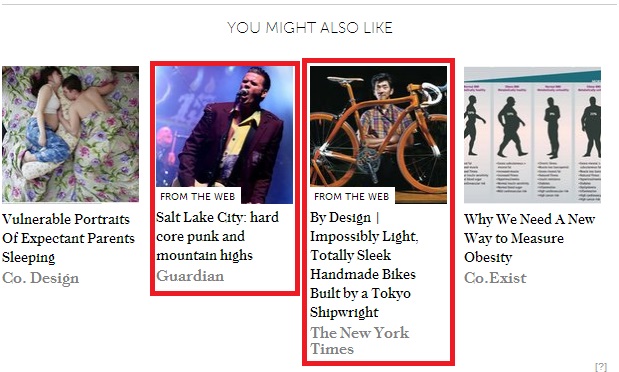 Since using these types of services does require budget, it's important to keep an eye on this and make sure that your campaign is running at peak efficiency.
Recommend your content
In most industry sectors or niches you will find bloggers that publish regular industry roundups that are essentially a list of links along with commentary on what readers will find in the post.
If you are producing great content then chances are that bloggers would be happy to link to it as it would provide value to their audience.
A great example of someone who makes the most of this tactic is Devesh from WPKube.com who successfully used this tactic with me.
Devesh sent me a compelling email which included the following points:
He has already shared my content
He thinks a particular post on his site would be a good fit for my audience
He will be happy to help me promote the post as much as possible once it's live
I immediately recognised Devesh because I he had shared some of my content on Twitter before I received the email. My Twitter username was @mentioned so he was immediately recognisable.
I see this as a reciprocal process because in the future my posts were included in Devesh's own industry roundups and we have both helped each other out by sharing each other's content.
Part of successful content promotion is about building and maintaining relationships with other bloggers and influencers.
What about finding bloggers that publish industry roundups?
It's as easy as a Google search, using the following search operators:
"keyword"+"industry roundup"
"keyword"+"roundup"
If you don't get much in the way of results then try swapping the keyword or removing the inverted commas.
Summary
The majority of content that people spend hours and hours creating ends up gathering dust because not enough time is spent on promoting it.
By using the tactics that I have mentioned above to promote each piece of content on your blog you will give your blog a fighting chance and not only generate more traffic, you will also get more social shares and backlinks.
This means better rankings in Google and ultimately more leads for your business.
Do you have any content promotion tips to add to the list?
About the author: Adam Connell is the marketing manager of a UK based content marketing agency; UK Linkology. He can be found blogging over at Bloggingwizard.com, where he talks about marketing, social media, SEO and a few other topics. To find out how he made his blog a success in under 4 months, download his free report here.
photo credit: joshunter via photopin cc
j+ archives
Featured Categories
Follow @jplussocial on Twitter