Have you seen the TV commercial for Pizza Hut that refers to year 1994? I'll bet they've been waiting, like, 20 years to show that commercial! Okay, that was lame – but the commercial itself and the reason for it are definitely not lame. Pizza Hut is celebrating the 20th anniversary of the world's first online order – a large pepperoni, mushroom and extra cheese pizza through a proprietary system known as PizzaNet! Who knew this would be the beginning of e-commerce?
E-commerce and the Internet have certainly come a long way in a relatively short amount of time. Although people could order pizzas through the Internet in 1994, they would still have to wait for more than a year before Amazon.com arrived online. "We want to celebrate the fact that before consumers could buy books, clothes, music or vacation packages via the internet, they could place an online order for a Pizza Hut pizza," said Carrie Walsh, chief marketing officer at Pizza Hut. Definitely a reason to celebrate, in my opinion. Now you can order pretty much anything and everything online as long as you have Internet access, a bank account or credit card, and a mailing address.
Let's go back twenty years now, to 1994. If you are old enough to remember then you probably recall using a much different Internet than the one we know today.
I hold the opinion that we enjoyed a kinder, gentler Internet, in 1994.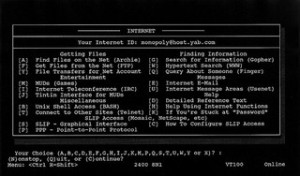 Since the Internet was primarily text, it was definitely simple and boring when compared to what we know and take for granted today. But it was still fun and exciting for some of us because it was so new!
SEO wasn't an issue, because no one cared about keywords or where their page ranked.
Social media existed mainly in the form of emails, chat rooms and telephone calls.
Connections were slow and Wi-Fi was a fantasy.
Speaking of fantasies, I remember connecting through dial-up and spending hours chatting on AOL and pretending to be a sexy redhead named Artemis on a MOO (a text-based online virtual reality system to which multiple users (players) are connected at the same time) with virtual friends from all over the world. I also remember being perfectly happy with a substandard modem and slow connection speeds which would now force me to pull out my hair in frustration.
The "@" was still foreign to many of us, and hashtags were still found on phones which were plugged into walls.
People could "surf the web" using Yahoo, but not Google – this now popular search engine was still two years from launching.
I really don't miss the 1994 Internet, but I do appreciate how I was around to see and participate in the beginnings of "the world's largest computer network and the nearest thing to a working prototype of the information superhighway."
The Internet, e-commerce, social media and search all continue to evolve.
Who knows what the next 20 years will bring, but I do know one thing: I am happy to be along for the ride.
What do you remember about the Internet in 1994 and what do you expect to see in the next 20 years? I would love to hear from you. Leave a comment below or tweet me @jplussocial anytime!
photo credit: Tim Patterson via photopin cc
Image courtesy of Idea go / FreeDigitalPhotos.net
j+ archives
Featured Categories

Follow @jplussocial on Twitter

Google+