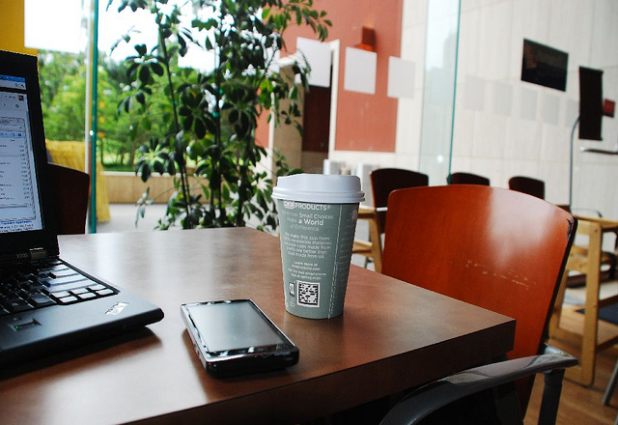 I'm very honored to introduce guest contributor, Joseph Ruiz. He shares his knowledge of and insights into SoLoMo (Social-Local-Mobile). These are fantastic marketing tips for small businesses.  ~ Jenn  
Overview
Unless you are living under a rock you are probably aware that the business landscape is changing in ways we couldn't have imagined even a few years ago. Hyper-connected consumers are reshaping the way companies market their products and services.
While some business owners are either unaware or bewildered by this new landscape, there are three basic practices that can help your business attract these modern consumers by connecting Social, Local, and Mobile (SoLoMo). Here's how.
Mobile
Consumers are out and about, on their smartphones.
Mobile search grew 500% in a two year span of time (2010 & 2011). (Source: http://econsultancy.com/us/blog/11186-will-mobile-internet-replace-desktop-infographic)
Whether they're on the go, or just at home, mobile search is always on: 77% of mobile searches occur in home or office.
What does this mean for Businesses?
Optimizing for mobile is essential. With the growing penetration of smart devices this is no longer optional.
Mobile marketing starts with a mindset. To get started, ask questions like:
Where is someone when they are accessing my site?
What are they looking for?
How does my site render from a smart device? Tablet, smartphone – Apple vs Android
Try accessing information from your phone. What's the experience searching, navigating from page to page? How about ordering?
GOMOMETER is a free tool that shows you how your site renders on a mobile phone. If you don't like what you see then make some changes. Sure you may have to spend a few dollars but the risk of business as usual might be even greater.
Local
Consumers demand for convenient access to products and services is substantial: 43% of total Google searches are local.
Despite 59% of national marketers noting that local demand generation was essential to their business growth, only 7% feel they have highly evolved campaigns and measures in place that can activate consumers at a local level. Donovan Neale-May, Executive Director of the CMO Council, notes that "… according to the U.S. State Department, American businesses lose $50 billion annually in potential sales because of problems with localization… (Source: Center for Media Research)
Don't wait for your competition to figure this out.
What's a Business to do?
Claim your local identity!
Google wants to help.
First claim your local identity if you haven't already. This article explains the reasoning behind why taking the time to claim your local identity is worth it: http://www.asbtdc-asu.com/why-small-businesses-need-to-claim-local-search-engines/on local search engines.
Anyone can register their information on all three search engine sites free of charge. By filling out the information thoroughly and accurately, business owners can leverage the increasing emphasis on local in query results.
To claim your site you can go to each search engine individually:
Other Local Marketing Tips
At a minimum, your website should make it easy to find basics like your location, hours, and phone number.
Are you offering promotions? If yes, are you making these available online? Remember mobile customers and prospects have a bias for action; make it easy for them to use these offers. If your answer is no, then consider ways to use promotional offers to attract this audience.
Want more information? Read http://www.strategicdriven.com/marketing-insights-blog/6-local-mobile-marketing-tips/ for 6 local mobile marketing tips.
Social
People like to share
Social allows customers and prospects to interact with the brand in more personal ways. Consumers want to share successes and to be understood; social companies with Facebook pages, for example, offer a venue where a brand can hear directly from the consumer without a face-to-face meeting or a formal notice.
If you are on Facebook or thinking about it here is some practical advice from the folks at Social Media Examiner. http://www.socialmediaexaminer.com/facebook-marketing-for-small-business.
Encourage it
Engage with consumers on your site. Provide opportunities right on your site for consumers to interact with you; offering surveys, opportunities to vote, give ratings and opinions, allowing comments—all of these are ways to give a voice to your site visitors. It's a good idea to respond to their communications, so they know you are listening.
Make it easy for everyone to share content; there are a number of free share icons tools that make this very practical. Most content management software is designed to enable simple integration of the major social media platforms, so take advantage of these added channels to appropriately share and distribute your content.
Invite consumers to sign up for newsletters or offers without asking for too much information. It's a good idea to just start by requesting only an email address. The less information you require, the better the response rate will be.
Listen and pay attention
Two-way communications is a must in the social media realm; the consumer's voice must be heard, and if not, it will signal consumers to move along to a merchant who will respond rapidly. Buyers expect brands to dole out tailored offers and solutions to meet consumer demands. They also expect a consistent experience.
Start listening. There are free listening tools like Social Mentions, Google Alerts that provide access to conversations. Monitor the social space for relevant terms like your brand name. You may want to add terms like competitor names, or other pertinent information.
Listen for complaints, for frustrations, for celebrations. Use these insights to respond by resolving issues, acknowledging compliments, creating content to address frustrations. The key is helping not selling. The more you help the more customers will want to share.
Combining all three
Reaching social consumers requires an integrated marketing approach that delivers a seamless customer experience. A customer-centric strategy will combine the elements of today's SoLoMo consumer. This approach requires a different mindset, one that recognizes the optimum approach to reaching these consumers requires collaboration and open communication internally and externally. Marketing assets must be aligned to attract and retain this new breed of consumer.
About Joseph Ruiz:
Joe Ruiz is President of Strategic Marketing Solutions, a full-service marketing and consulting firm specializing in web-based integrated relationship marketing. Joe is a monthly contributor to Windmill Networking, Social Media Today and Business 2 Community, and in his spare time, hosts marketing chats, specifically #usguyschat and #smchat. You may follow him on Twitter at @SMSJoe
photo credit: projectdp via photopin cc
j+ archives
Featured Categories

Follow @jplussocial on Twitter

Google+